… motherfucker?
I ask because of the dust-up over Congresswoman Rashida Tlaib's statement about Trump that is in the news, "we're going to impeach the motherfucker."
To back up a step: here's a link to an article and with a five minute or so video of the event. I think this was a Move On sponsored thing and it looks like it was in some kind of bar/party room filled with supporters. It was a fiery speech all about how her progressive and activist campaign worked, and how that strategy worked for other progressive candidates– notably many women and/or POC. It looks to me like everyone in the crowd had a cell phone recording the speech in one hand and a beer in the other. It was a private party. There was ton of cheering and whooping it up and she closed with that line "we're going to impeach the motherfucker."
This matters. A LOT. It's not like Tlaib was on the floor of the house or on Meet the Press or whatever and said "we're going to impeach the motherfucker." And the sentence that is getting all the attention now wasn't even the first time she said "fuck" in that five minutes.
As far as the politics go, I am in the same camp as Nancy Pelosi and the more moderate leadership in the House: it's not time to call for impeachment and while Pelosi said she wouldn't have made that choice in words, she's not going to get into the censorship business. But Tlaib is not the first member of congress to say Trump should be impeached now, and, as I heard Tlaib say on the news the other night (this is a local story because her district is parts of Detroit, Wayne county, and "downriver"), fighting for impeachment was a campaign promise. So it makes sense that Tlaib would bring up that campaign issue/promise at a party celebrating being sworn in.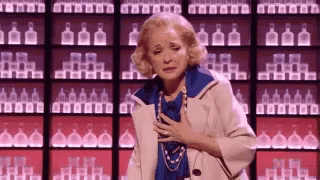 Anyway, while I do not like the phrase "clutch their pearls," I cannot think of a more accurate metaphor in the reaction to this. Never mind Fox news; This tweet from The Washington Post called Tlaib's choice of "motherfucker" a "slur," though the article to which it links is all about civility and the moral problems of vulgarities. The moderately liberal Detroit Free Press (well, compared to the Detroit News) published a Mitch Albom screed/editorial where he condescendingly laments Tlaib's sinking into a "new low in a cesspool of human relations we call politics," she is merely sinking to Trump's lows etc. My stars, I do declare!
All of which brings me back to my original question: just how offended are you by the word "motherfucker?" I'll take Albom at his word and agree he is personally offended at the use of such salty language. This isn't surprising since  Albom has made his nut from schmaltzy feel-good books (Tuesdays with Morrie, The Five People You Meet in Heaven, Have a Little Faith, etc.) which end up as Hallmark Hall of Fame TV movies.
Of course, I also have to think that Albom and others wouldn't have had any real reaction to the vulgarity at all if it had been uttered at a similar campaign event by a 60-something Republican white dude.  But I'll just leave that right there.
I mean, I take it as a given that the kinds of conservatives who think Trump is doing a great job and who think liberals are evil and anyone non-Christian is suspicious object to Tlaib calling Trump a "motherfucker," but these people probably would have been just as upset had she called him a poopy-head. But beyond that, I have to wonder how much of this is kind of generational, kind of a lack of familiarity with a certain strand of contemporary culture.
Take some of the movies I like, for example.
I probably watch The Big Lebowski three or four times a year. It's a movie that is both comfortingly familiar and still full of surprises, and it's the kind of thing Annette and I will sometimes put on as "background viewing," something on the TV while we are each putzing around on our laptops doing other things (writing a blog post, for example). In The Big Lebowski, there is some variation of word "fuck" 260 times, at least according to Wikipedia.
Also according to Wikipedia: that 260 different fucks doesn't even put The Big Lebowski in the top 25 of the most fucks in a movie (though I don't know how accurate this list is, and who has the time to count all those fucks?) Interestingly, there are a lot movies on this list of 135 different titles that I've seen and liked a great deal– The Wolf of Wall Street, Casino, Goodfellas, Reservoir Dogs, Pulp Fiction, Jay and Silent Bob Strike Back, True Romance, Zack and Miri Make a Porno, Superbad, Monster, Bad Santa, Sorry to Bother You, etc., etc.
I mean, don't get me wrong: for Tlaib to call Trump a "motherfucker" was insulting. But I don't know, it sure seems like the Alboms of the world think that calling someone a motherfucker (at the end of a rally-styled speech in a bar full of supporters– don't forget the context, folks) is a whole lot worse than I do. Maybe I watch too many movies with bad words in them. Maybe Albom et al don't watch enough of these movies.